Telehealth at SCPL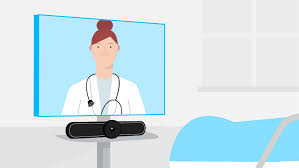 The Main Library in Marion is now offering a telehealth privacy space for the use of Smyth County residents. The private room includes a tablet computer, a large monitor, a web camera, a microphone, and a printer. Patrons should schedule a telehealth appointment with the provider of their choice and then reserve the telehealth privacy space at the library by calling 276-783-2323. On the day of the appointment, the patron should bring with them to the library the information needed to login in to their e-mail account or other site to access the meeting. Library staff will assist patrons to get on to the computer and to enter their meeting, as needed.
The room may also be reserved for other online meetings like job interviews, live online classes, or group video conferences. Telehealth appointments will have priority for reserving the room.
For more information about telehealth, visit What is Telehealth? and Finding Telehealth Options.
The SCPL Telehealth Privacy Space was funded by a grant from the Library of Virginia and the Institute of Museum and Library Services.