Books for Sale
Smyth County Public Library offers the following books of local interest for our patrons to purchase. Currently, we cannot process sales online. Please purchase books at the circulation desk of the Marion Main Library.
---
Non-Fiction Books for Sale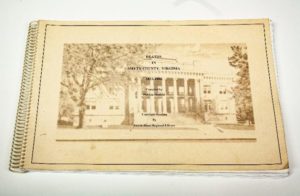 Deaths in Smyth County, Virginia 1853-1896, compiled from microfilm
$20.00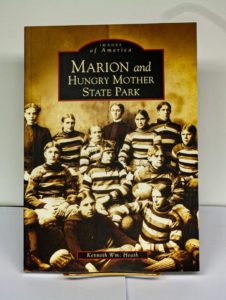 Marion and Hungry Mother State Park by Ken Heath
Situated in Virginia's southwestern corner in the splendor of the Blue Ridge Mountain Highlands, Marion and neighboring Hungry Mother State Park are steeped in natural beauty. Marion, the name chosen to honor American Revolutionary War hero Gen. Francis Marion, was officially incorporated by the General Assembly on March 15, 1849. The railroad arrived in 1856 and fueled the economy by promoting industrial growth throughout the region. In 1933, John D. and Mildred Lincoln donated 1,881 acres to the state for the establishment of a state park on Hungry Mother Creek. On June 13, 1936, the park was officially dedicated with public opening ceremonies at Hungry Mother State Park, and more than 5,000 turned out to see the park as Gov. George Peery and State Park Director Robert Burson officiated. (Credit: Back cover of book.)
$20.00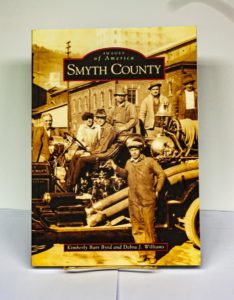 Smyth County by Kimberly Barr Byrd and Debra J. Williams
Located between the Blue Ridge and the Appalachian Mountains of Virginia, Smyth County has had a profound effect on many aspects of local, state, American, and world history. In Images of America: Smyth County, take a journey back through time and visit the town recently named the "Most Historical Spot in America." Travel across the homestead of the first Virginians, who fought the first recorded battle of the new land, and find out how Smyth County is rewriting the history books. See the racetrack in Smyth County where the "Babe Ruth of NASCAR" took the checkered flag. Tour Civil War sites and homes where Stoneman's Raiders took refuge during battles for the most valuable site of the Confederacy. (Credit Arcadia Publishing)
$20.00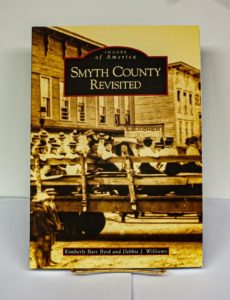 Smyth County Revisited by Kimberly Barr Byrd and Debbie J. Williams
A companion to Images of America: Smyth County, this volume, Smyth County Revisited, depicts some of the history of the area. Come examine the first land tracts surveyed west of New River. Learn of the vast amount of history surrounding Fort Kilmackronan, which still stands today. Explore the Indian Fields, and learn of the ghosts that still haunt them. Visit the many Civil War sites in this area and tour the localities where Civil War uniforms and supplies were manufactured for the Confederacy. Find out why Smyth County became "the hub of the herbal industry" and how it went on to become the world's largest distributor of these medicinal remedies. Discover why the county's first library was located in the ladies' room of the courthouse. Come survey the many other sites and memorable events that entertained so many generations for decades. (Credit Arcadia Publishing)
$20.00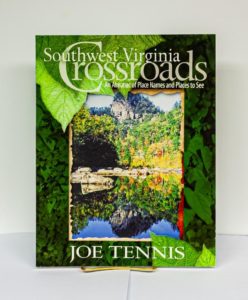 Southwest Virginia Crossroads by Joe Tennis
The mountains, rivers, and lakes of Southwest Virginia have invited explorers since the mid-1700s. Now this land beckons the modern traveler with its siren song of beauty, wonder, and history. Southwest Virginia Crossroads: An Almanac of Place Names and Places to See extols the virtues of this national treasure and serves as a guide for those who want to find the best of America. As you journey with author Joe Tennis through Southwest Virginia Crossroads, he relates the history of the land and its people, chronicling the fascinating stories birthed in this fabled region, as well as age-old place-names and their origins. County maps and detailed directions lead you to all the little- and best-known attractions housed in cities and towns like Bristol and Abingdon or sheltered within the rolling farmland and weathered mountains. Even those familiar with the area will want to visit waterfalls, lakes, towns, cities, restaurants, and historical sites discovered in the! pages of this comprehensive work. Whether on the car dashboard or at home on the coffee table, Southwest Virginia Crossroads is a wealth of knowledge and a delight to read. (Taken from rear cover)
$20.00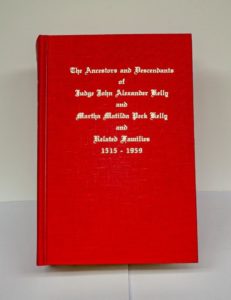 The Ancestors and Descendants of Judge John Alexander Kelly and Martha Matilda Peck Kelly and Related Families 1515 – 1959 by Collected by John Alexander Kelly Edited by Roberta Matilda Kelly
"Most of this book is a genealogical compilation. There are anecdotes which depict hardships, traditions, legends, and hopes of these pioneer Americans. Educational, patriotic, economic, and religious status of the different families are included in this volume. We can thank Dr. Kelly for recording data which becomes increasingly more difficult to locate." (Excerpt from Preface of book)
$30.00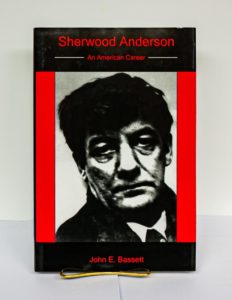 Sherwood Anderson: An American Career by John E. Bassett
Sherwood Anderson: An American Career" is the first critical introduction to this important Midwestern and American writer in over a quarter century. While reevaluating the accomplishments in Winesburg, Ohio and Anderson's other novels and short stories, it pays more attention to his non-fictional, autobiographical, and journalistic writing than do previous studies. It draws on unpublished manuscripts in the Newberry Library Anderson papers that shed new light on a prolific career, manuscripts such as "Talbott Whittingham" and "An Ohio Paper." (Inside dust jacket)
$30.00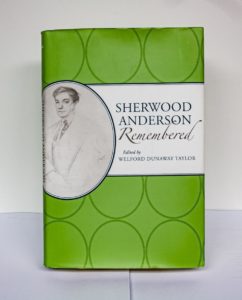 Sherwood Anderson Remembered by Welford D. Taylor
In 1912, Sherwood Anderson suffered the mental and artistic break that has since become a firmly embedded legend in American literary history. A successful businessman in Ohio, he began to speak incoherently while dictating a letter at his desk and walked out of his office, to be found four days later and a hundred miles away, disoriented and exhausted. Within weeks, he had quit his former life, moved to Chicago, and become the writer who would produce, among other works, Winesburg, Ohio, the landmark collection of stories which transformed American literature by disregarding the norms of realism and naturalism and foregrounding the lyrical voices of the isolated in a distinctive, modern way. Anderson served as a mentor to writers like Faulkner and Hemingway early in their careers and befriended a remarkable number of American writers, among them, Carl Sandburg, Ben Hecht, John Dos Passos, James T. Farrell, Gertrude Stein, Henry Miller, and Anita Loos. Anderson was notoriously elusive, and autobiographical accounts of his breakdown and life vary wildly. Sherwood Anderson Remembered offers an intimate account of Anderson and the impressions he made on his contemporaries. The anecdotes collected in this volume constitute some of the best and most vivid assessments of his personality and work available. Together they create a richly detailed account of an individual who left an indelible mark on those touched by his presence and his words. (Inside dust Jacket)
$40.00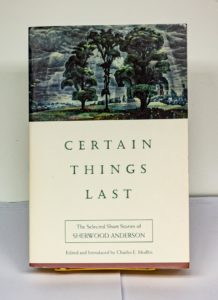 Certain Things Last by Charles E. Modlin
This collection of 30 post- Winesburg, Ohio stories includes three previously unpublished and six previously uncollected stories. Several others, including two that had been radically revised, have been restored by Modlin to what he believes were Anderson's original intentions. The stories, which generally address the storytelling process, are wonderfully well crafted and still enjoyable today. Using mostly male narrators and often involving initiation rites, they give us a male perspective of small-town Midwestern life during the first 40 years of this century. The unquestioned racism and sexism occasionally revealed by the narrators may disturb some readers, but these attitudes were realities of American life that must be faced. Highly recommended, particularly for American literature collections in academic libraries. - Judy Mimken, Saginaw Valley State Univ., Mich. Copyright 1992 Reed Business Information, Inc.
$17.50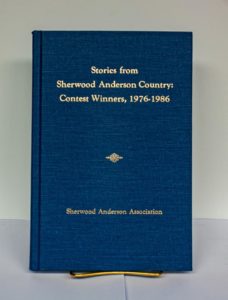 Stories From Sherwood Anderson Country: Contest Winners 1976 – 1986 edited by Charles E. Modlin & Hilbert H. Campbell
This is a 131-page hardback edited by Charles E. Modlin and Hilbert H. Campbell. Contains 19 short stories that won the annual Sherwood Anderson Short Story contest. It was published by the Sherwood Anderson Association in Marion, Virginia.
$FREE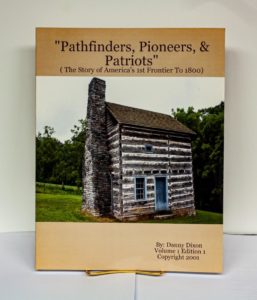 Pathfinders, Pioneers, & Patriots by Danny Dixon
The story of our history is a fascinating one that grows ever more so as one learns more and more about the people and events that shaped it. Although much has been well documented, much more has been lost and may never be recovered. This book is an attempt to gather together some of the fragmented details and stories that have survived and to place them in context with better known historical events - so they can better be understood and appreciated. (Taken from rear cover)
$20.00
---
Fiction Books for Sale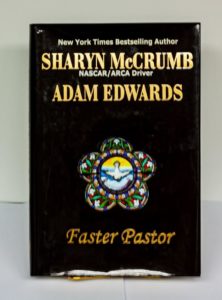 Faster Pastor by Sharyn McCrumb
Camber Berkley, a young stock car driver, wrecks his car on a winding mountain road, landing right during the funeral of an elderly NASCAR fan. As punishment for his spectacular car wreck, the local authorities of the small Tennessee town of Judas Grove give him a choice: serve three months in jail for reckless driving or spend two weeks teaching the local ministers to drive stock cars, so that they can compete in a race whose prize is the $2 million legacy left by that deceased NASCAR fan. (credit: Sharyn McCrumb website.)
$20.00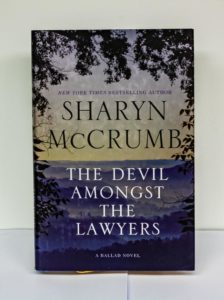 The Devil Amongst the Lawyers by Sharyn McCrumb
When a pretty young schoolteacher is charged with murder in 1930's Appalachia, the national press use it as an excuse to sell papers — and to demonize the region, raising social issues that go well beyond the fate of one defendant. Appalachian wise woman Nora Bonesteel is 12-years old, just beginning to come to terms with her gift of the Sight. (Credit: Sharyn McCrumb website.)
$20.00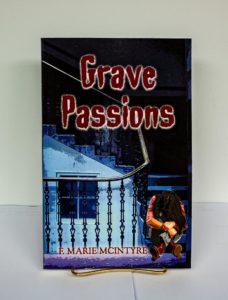 Grave Passions by R Marie McIntyre
Allison Canyer lives a typical life; she is a successful businesswoman with a dedicated, successful boyfriend. She has no complications or unexpected trouble in her life. While adjusting to living in a house she inherited from her uncle, she finds herself being watched by an unknown stranger. Turmoil erupts in her home and in her life. The result is beyond anything her boyfriend, her best friend, or a veteran police detective can save her from. (Taken from back cover)
$20.00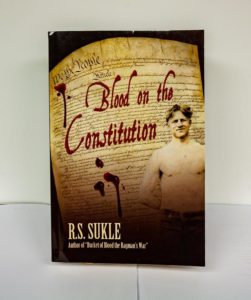 Blood on the Constitution by R. S. Sukle
All might be free if they valued freedom and defended it as they should. - Samuel Adams In the late 1920's, the well-oiled machine of capitalist interest ran roughshod over the civil rights of American workers. Blood on the Constitution follows Teddy Albert Gall through the horrific world of brutality, rape, exploitation, and murder that characterized this era for so many whose voices were lost to history. Albert, as he is called, ex-marine and talented prize fighter, is drawn into the deadly world of the trade union movement, unions, big business, mafia, and the ranks of the oppressed and the oppressors all struggle for supremacy. Teddy enters the fray, compelled by his noble sense of justice, yet tortured by the fact that he is endangering the lives and livelihoods of those around him... pursued by a psychotic serial hit man and pursuing happiness with the woman he loves. In Blood on the Constitution, the long-awaited sequel to The Ragman's War, Sukle provides a fascinating and impeccably researched insight into a key period that shaped the America we know today. Its compelling characters and shocking tales are skillfully interwoven, culminating in an unforgettable climactic confrontation. (Back Cover)
$14.00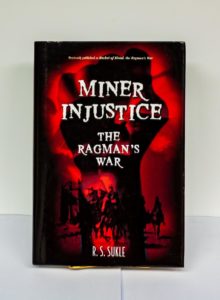 Miner Injustice: The Ragman's War by R. S. Sukle
Sukle's book is well researched, and her dialogue rings true to the accent and the feeling of those fraught times. It is a praiseworthy effort, and one expects to see more of Sukle as a writer/historian.-Barbara Bamberger Scott, Women Writers ReviewDuring the coal strike of 1927, the coalfields of western Pennsylvania become a hotbed of tension and terror.A mine mechanic and World War I hero, Ragman walks away from his job at the Russellton Mine. He originally wants no part of the union fight, but is slowly drawn in by his activist brothers.When a new unit of special Coal and Iron Police arrives in Russellton to terrorize the town and end the strike, Ragman scarcely realizes that the commander, Herman Bucholtz, has his own agenda. Appointed by the governor to break the strike and evict the miners from their homes, he imposes unconstitutional restrictions to keep out relief workers and organizers.Thus begins an intricate, emotional tangle that leads Ragman and his fellow activists on an escalating, fanatical path of revenge and self-discovery, culminating in a life-and-death struggle. (Back cover)
$30.00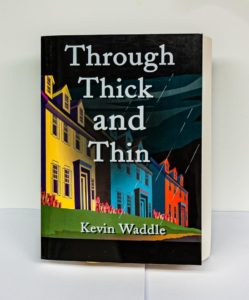 Through Thick and Thin by Kevin Waddle
During a rainy weekend in a small Virginia town, four college friends are reunited after spending the last three years apart. They are called together for reasons they dont fully understand, and it soon becomes clear that not everything is how it seems. Among them are Reggie Battle Battlefield, the organizer of the reunion and son of a prominent state politician; Jake Mathis, a successful business manager from Cincinnati who knows more than hes letting on; Travis Li, a sports reporter in the nations capital trying to break the biggest story of the year; and Tommy Covington, a former hero who now lives alone in Kansas City. As the weekend unfolds, tensions flare as the group struggles to learn the real purpose of their reunion. New secrets are revealed, old wounds are reopened, and a dark figure from their past comes back to haunt them all. Their homecoming suddenly appears to be the work of a larger and more dangerous plot, and the group is unexpectedly launched on a final mission to save one of their own. But succeeding means working together, forcing the former college pals to reexamine their friendship and question their once unshakable loyalty to each other. (From back cover).
$20.00